Kids Need Music Benefit Concerts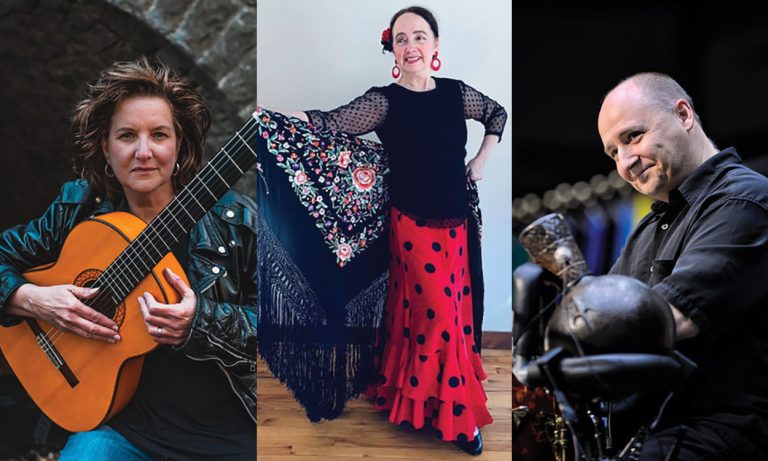 "Tacones y Manos Calientes" – Spanish guitar, flamenco dancing and drumming
A concert to benefit Kids Need Music featuring Maria Zemantauski (guitar), La Nina (dance) and Brian Melick (Drums).
All proceeds will be used to purchase instruments so that more children can participate in the Hudson City School District music program.
Maria Zemantauski is a nylon-string guitarist and composer whose style is influenced by a variety of musical genres, most notably, Spanish classical, flamenco and American fingerstyle. She has performed in Spain, Italy and across the continental United States to great acclaim. Her albums, Mrs. Laughing- house (1997), Seeing Red (2000), Under the Lemon Tree (2005), Petty Feet & Mistletoe (2010) and the self-titled, Maria Zemantauski (2018) have received stellar reviews from music critics around the world.
Maria's programs are a dynamic blend of artistic freedom, innovation and tradition. This is not surprising considering that as a child, she resisted guitar lessons, telling her encouraging parents that she wanted to "discover the instrument on her own without being told what to do."
As one reviewer wrote, "Zemantauski has continually pushed the boundaries of the possible with her trusty 6-string, blending genres that have little or no business appearing on the same bill, much less in the same song. It's rarely less than electrifying to watch her do it." She believes that the expressive possibilities of the guitar are limitless and pursues her music with passion, confidence and grace.
La Nina, native of Colombia, South America, has been teaching and performing flamenco for many years. She studied flamenco dance in NYC and in Granada, Spain. La Nina conducts workshops and performances at various schools and universities and performs often with Maria Zemantauski and Brian Melick in the Capital Region. She teaches flamenco and tap dance at the Elite Dance Academy in Oneonta, New York.
Drummer Brian Melick has been professionally involved in music for over 42 years starting his career at the age of 14. As a recording artist he has been featured on over 400 releases both for independent as well as major labels. He has four releases under his own name "Percussive Voices", "uduboy", "Diverse Ele- ments" and "In Motion". The first three have also been released as sound libraries for commercial industrial use on several major networks and motion picture organizations such as Discover Channel, The Learning Channel, Disney, Columbia Pictures, and NBC to name just a few.
---
Spencertown Academy Arts Center's programs are made possible by the New York State Council on the Arts with the support of the Office of the Governor and the New York State Legislature.