Rob Fisch's "Intentional Jazz Ensemble"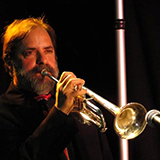 Join this talented quintet as they give tribute to Miles Davis's 1959 recording Kind of Blue, indubitably a classic. Music critic Fred Kaplan says: "a huge hit—the best-selling jazz album of all time— and the spearhead of an artistic revolution. Everyone, even people who say they don't like jazz, likes Kind of Blue. It's cool, romantic, melancholic, and gorgeously melodic."
Purchase tickets now.