Intentional Jazz Ensemble
Saturday, February 13, 2016
$10 – $20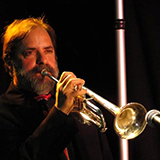 This talented sextet returns to the rich tradition of jazz from the Blue Note era exemplified by Art Blakey, Wayne Shorter, Freddie Hubbard, and others. Led by Rob Fisch, Intentional Jazz brings together some of the finest jazz musicians from northeastern New York, western Massachusetts, and southern Vermont, including the likes of Rob Fisch (trumpet), Aaron Dean (sax), Dave Pickard (trombone), David Bartley (piano), Dave Christopolis (bass), and Steve Collins (drums). Purchase tickets in advance or at the door.
Click here to make your reservation today.

The concert is the first of a series of four concerts that will be produced this year by Spencertown Academy volunteers. Longtime Columbia County residents Rob Fisch and Craig Bender are spearheading the effort. "For the first program, we're pulling out all the stops to help everybody shake off cabin fever and warm up this winter," said Fisch. "Intentional Jazz is a strong six-piece jazz group known for its rich sound and synchronized harmonies from a formidable three-part horn section and a stellar rhythm section of piano, bass, and drums."
This ensemble of veteran musicians excels with selections such as "All Blues," "Nardis," and "Blue in Green" by Miles Davis, "My Favorite Things" by Richard Rogers but brought into the jazz idiom by John Coltrane, "Doxy" by Sonny Rollins, and "Sister Sadie" by Horace Silver.