Book Release Celebration for Peter Biskind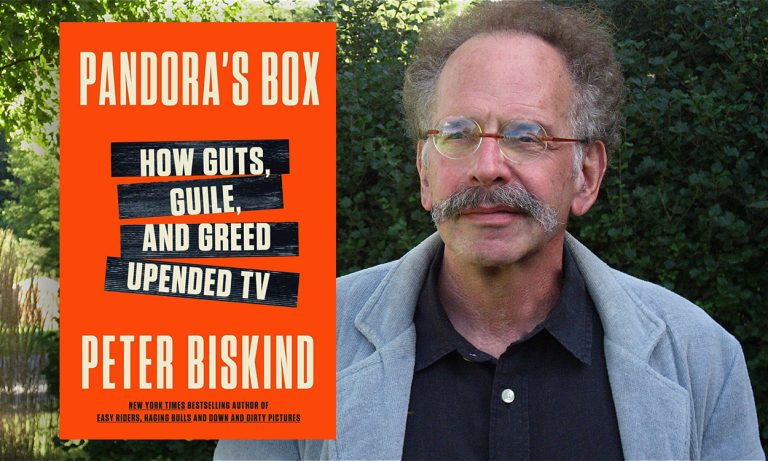 We are pleased to present, in collaboration with The Chatham Bookstore, bestselling author Peter Biskind in an event celebrating his new book, Pandora's Box: How Guts, Guile, and Greed Upended TV (William Morrow, 2023) He will be joined in conversation with acclaimed historian David Nasaw. The book will be for sale and the author will be available for signing after the conversation.
"Peter Biskind is a fixture in our community and has been a longtime friend, neighbor, and supporter of the Academy. We are thrilled to host this event and celebrate the publication of his new book," says Wayne Greene, Academy board member. "We look forward to a lively conversation between Peter and his friend and fellow bestselling author, David Nasaw."
With Pandora's Box, cultural critic Biskind turns his eye toward the new golden age of television, sparked by the fall of play-it-safe network TV and the rise of boundary-busting cable, followed by streaming, which overturned both. Television, in its various guises and formats, has seized the entertainment mantle from movies and dominates our leisure time. How and why this happened is the subject of this book. Through frank and shockingly intimate interviews with creators and executives, Biskind investigates the dynamic interplay of commerce and art through the lens the game-changing shows they aired—not only old warhorses like The Sopranos, but recent shows like The White Lotus, Succession, and Yellow- (both -stone and -jackets)—as windows into the byzantine practices of the players as they use money and guile to destroy their competitors.
Biskind is the author of five previous books, including Easy Riders, Raging Bulls: How the Sex-Drugs-and-Rock 'n' Roll Generation Saved Hollywood. He is a contributor to Vanity Fair and was formerly the executive editor of Premiere magazine. He lives with his family in Columbia County, New York and is executive director of the annual FilmColumbia Festival held in Chatham, New York.
David Nasaw's latest book is The Last Million: Europe's Displaced Persons from World War to Cold War, a sweeping new history of the one million refugees left behind in Germany after WWII.