Past Events
Events Search and Views Navigation
May 2020
Three part Virtual Series on Zoom. Wednesday May 13, Sunday May 17, Wednesday May 20, all at 4:00-5:30pm. Please consider a $30 donation for this 3 part series, or pay what you can (either more or less). Zoom in for a creative writing workshop with internationally published author, Jamie Cat Callan. Whether you're interested in fiction, memoir, poetry or monologues, this workshop will wake up your senses and shake you out of the Pandemic blues! You'll have fun participating in…
Find out more »
June 2020
This three part Virtual Series on Zoom. Wednesday June 17, Saturday June 20, Wednesday June 24, all at 3:00-4:30pm is sold out. Zoom in for a creative writing workshop with internationally published author, Jamie Cat Callan. Whether you're interested in fiction, memoir, poetry or monologues, this workshop will wake up your senses and shake you out of the Pandemic blues! You'll have fun participating in writing games and exercises from The Writer's Toolbox*. Jamie is a nurturing mentor and coach,…
Find out more »
Naturalistic Planting on a Domestic Scale PLEASE NOTE: Ticket sales end Saturday, June 27 at 6:00pm. This illustrated talk will focus on practical techniques for creating and managing naturalistic plantings at a size that's feasible for the home gardener, in terms of both labor and expense. Using part of his own garden as the example, the presenter will share failures and successes in the development, over three seasons, of a wet meadow style planting. Topics addressed will include site selection…
Find out more »
July 2020
Read with us. Please join the Spencertown Academy Arts Center for our first Community Reads event, An American Marriage by Tayari Jones. An American Marriage was an Oprah's Book Club selection, as well as a New York Times and Washington Post Notable Book. In the novel, newlyweds Celestial and Roy are the embodiment of both the American Dream and the New South. He is a young executive, and she is an artist on the brink of an exciting career. But as they settle into…
Find out more »
Join us for the first in our series of Family Arts Kaleidoscope virtual events. Jason Talks about Dinosaurs is a live, interactive Zoom meeting for kids ages 6-12 and their families. Registration is free and is limited to 12 participants. Jason Sheldon is a lifelong dinosaur lover, birdwatcher, and environmentalist. Currently studying for a master's degree in adolescent science education, Jason loves nothing more than to share his passion for nature (both past and present). Come learn about the origins…
Find out more »
August 2020
This FREE, live and interactive, online experience is the second in the Family Arts Kaleidoscope series, designed to engage children and their families from home. Mr. Lee will lead a virtual tour of museums around the world, highlighting artifacts from Ancient Greece. Many ancient pots and vases illustrate scenes from classical mythology of gods and heroes. Tom Lee connects stories, art, and ancient culture with suggestions for artmaking and writing activities at home. Participants should have pencil and paper on…
Find out more »
Elena Mosley will lead an interactive class in African American dance. Participants will experience traditional dance and improvisational movement, while connecting to African rhythmic music. Bring a scarf or ribbon to hold in your hand and plan to have fun! Children ages 8 and up, family members welcome. Elena Mosley, Director and Founder of Kuumba Dance and Drum, began her dance career in various community centers in New York City. She performed with the Lady Helena Walquer Dance Company, Harlem,…
Find out more »
September 2020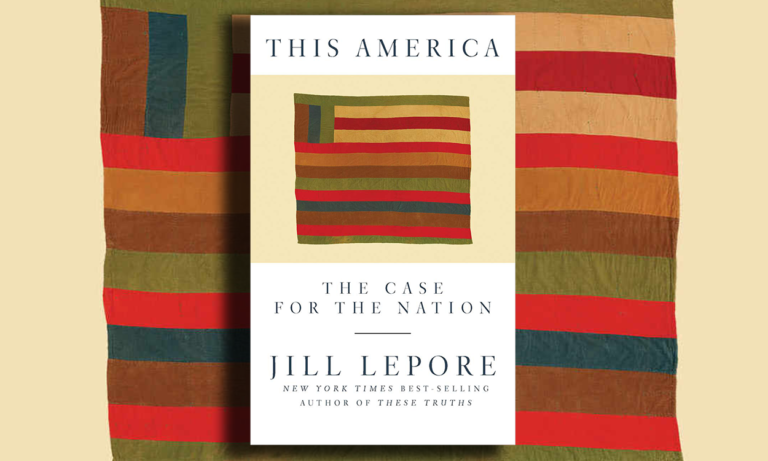 Free on Zoom: Registration required. Read with us. Please join the Spencertown Academy Arts Center for our second Community Reads event This America: The Case for the Nation by Jill Lepore, a work that examines the dilemma of nationalism and the erosion of liberalism in the twenty-first century. Ms. Lepore will join us live for the discussion, joined by Sheila Curran Bernard. Please consider shopping locally. This book can be purchased/ordered at The Chatham Bookstore. Mention Community Reads for a 10%…
Find out more »
October 2020
Join us for a specially recorded Family Arts Kaleidoscope program about the fun and magic of books with performing artist Steve Charney!
This program is FREE with registration and can be accessed at any time during the above dates.
BONUS FUN! Win a copy of Steve's classic book, Hokus Jokus.... How to Do Funny Magic! Ten people who register will be selected at random to receive the book!
Find out more »